A1-2




Difficulty

Par

2

Game/Type

Action
Hint
Two buttons, one switch!
Remix: "The Starite is close, but how can Maxwell get to it?"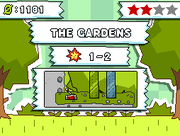 Solutions
Place an object on the buttons.
(Zero Objects) Knock the rocks onto the buttons.
Use a bulldozer to push the rocks on the buttons.
Cattle Prod, or other electric weapons except thunderbolt
(Remix) Shoot the lever with a "harmless" stunner
Use an engineer on the lever
Trivia
This reappears in Remix as 6-8.
Ad blocker interference detected!
Wikia is a free-to-use site that makes money from advertising. We have a modified experience for viewers using ad blockers

Wikia is not accessible if you've made further modifications. Remove the custom ad blocker rule(s) and the page will load as expected.