A1-5




Difficulty

Par

3

Game/Type

Action
Hint
"Pull my Starite!"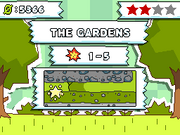 Solutions
Fly up any way then use Shrinking Magic on yourself, then fit through the gap between the wall and the crate. Push the crate away and fit through the gap to the Starite.
Fly up any way then use a rope to pull the crate, then attach another rope to the rope you are holding, attach it to the starite and pull the starite out of the gap.
Use a magnet to pull out the crate, then use a fishing rod to fish out the Starite.
Trivia
The level's hint comes from a practical joke of the same name.
Ad blocker interference detected!
Wikia is a free-to-use site that makes money from advertising. We have a modified experience for viewers using ad blockers

Wikia is not accessible if you've made further modifications. Remove the custom ad blocker rule(s) and the page will load as expected.