A10-1




Difficulty

Par

4

Game/Type

Action
Hint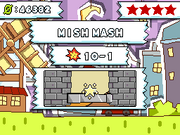 "Hint?"
Solutions
Equip a Parachute to Maxwell. Attach a couple of Balloon (Fun)s to the Starite. Jump off the ledge and catch the Starite before it hits the bottom.
Lay a bunch of pipes on the spiked floor since they are both made out of steel. Be sure most of the surface is covered well enough, or else you will get killed or the starite destroyed eventually! After that, just jump off, and get the starite!
Attach a couple of balloons (Fun) to the starite and spawn Pegasus to fly and get the starite with.
Ad blocker interference detected!
Wikia is a free-to-use site that makes money from advertising. We have a modified experience for viewers using ad blockers

Wikia is not accessible if you've made further modifications. Remove the custom ad blocker rule(s) and the page will load as expected.