A10-6




Difficulty

Par

5

Game/Type

Acrion
Hint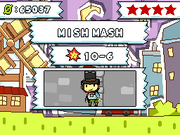 "Hanging by a thread!"
Solutions
Create a Pterosaur under Maxwell so he's riding it. This will allow you to get close enough to the Wooden Cage to open it, and grab the Starite after it lands on top.
Fly a UAV, and use any object to strike the rope and break it. carefully open the wooden cage, and try to get on top to grab the Starite. If you miss, and the it falls down to the lava, go after it, and you should "some how" grab it.
Ad blocker interference detected!
Wikia is a free-to-use site that makes money from advertising. We have a modified experience for viewers using ad blockers

Wikia is not accessible if you've made further modifications. Remove the custom ad blocker rule(s) and the page will load as expected.