A6-1




Difficulty

Par

3

Game/Type

Action
Hint
"You might have an easier time if you bring her with you."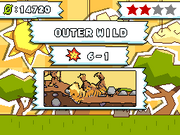 Solutions
Pick up the cub and carry it while going to the starite.
Use any flying item (Wings/Winged Sandals/Helibackpack) to fly up. Go all the way to the left. The tigers will be peaceful since you're carrying the cub.
Drop the cub and pick up your digging instrument you left "downstairs". Dig down to the starite.
Use a Grapple/Grappling Hook to pick up the starite.
Ad blocker interference detected!
Wikia is a free-to-use site that makes money from advertising. We have a modified experience for viewers using ad blockers

Wikia is not accessible if you've made further modifications. Remove the custom ad blocker rule(s) and the page will load as expected.