A6-3




Difficulty

Par

3

Game/Type

Action
Hint
"High road, low road."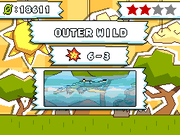 Solutions
On par, taking the high road
One-word solution

Write large air vent. Turn it facing right, blow the tiger and the fire off the ledge. If needed blow the tiger into the water. Use the vent to blow the starite out to the right, then pick it up.
Ad blocker interference detected!
Wikia is a free-to-use site that makes money from advertising. We have a modified experience for viewers using ad blockers

Wikia is not accessible if you've made further modifications. Remove the custom ad blocker rule(s) and the page will load as expected.