A8-2




Difficulty

Par

4

Game/Type

Action
Hint
"High flying roller coaster thrill ride!"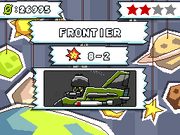 Solutions
Use a Germ and drop one on each of the planes except the one with the Starite. Then use a parachute to get the Starite and hope that the plane does not shoot you. Use an Invisibility cloak.
(Zero Objects) When the timing is right, tap the Starite
Another solution is to use a Bomber (plane) and kill two of the Enemies. Then use Balloons to float down to the Starite; hoping they will not shoot you; you may also want to use a Fighter Jet to take down the bottom plane.
Ad blocker interference detected!
Wikia is a free-to-use site that makes money from advertising. We have a modified experience for viewers using ad blockers

Wikia is not accessible if you've made further modifications. Remove the custom ad blocker rule(s) and the page will load as expected.