A8-4




Difficulty

Par

6

Game/Type

Puzzle
Hint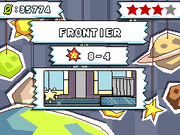 "Harder than you think?"
Solutions
This level can be quite tricky to figure out, but once you know the right solution, it's very easy to complete under par.
Put a Pebble etc. as a weight on the green button.
Create a Pterodactyl/Pterodactylus/Pegasus and fly under the red door.
Move the weight to the blue button. The starite will fall down and the green door will close under you. You can now safely dismount if you wish.
Move the weight to the red button and the Starite will drop on you.
Ad blocker interference detected!
Wikia is a free-to-use site that makes money from advertising. We have a modified experience for viewers using ad blockers

Wikia is not accessible if you've made further modifications. Remove the custom ad blocker rule(s) and the page will load as expected.