Brady Houck is an employee of 5th Cell and a spawnable character in Scribblenauts Unlimited.
He has blonde hair, is wearing a black and teal tracksuit, and sandals. He has red and teal friendship bracelets on his wrist. He also may be a brony.
Female Variant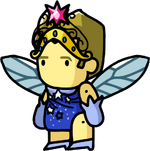 The Female Brady Houck is wearing a blue dress adorned with stars. She is also wearing light blue shoes and gloves, and a tiara with pink star at the front. She is equipped with insect wings and is able to fly. The crown appears to be a direct reference to a crown worn by Twilight Sparkle in My Little Pony: Friendship is Magic. The outfit also appears similar to her gala dress.
Ad blocker interference detected!
Wikia is a free-to-use site that makes money from advertising. We have a modified experience for viewers using ad blockers

Wikia is not accessible if you've made further modifications. Remove the custom ad blocker rule(s) and the page will load as expected.