Maxwell's family
Comments

58
5,052pages on
this wiki
Maxwell's Family consists of Maxwell, his twin sister Lily, 40 brothers, and their parents. Maxwell's family (except Maxwell) debuted in Scribblenauts Unlimited.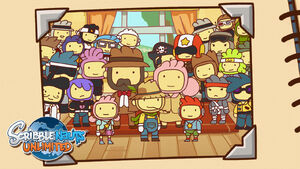 Important Members
Maxwell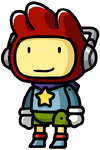 Main article: Maxwell
Maxwell (pictured to the right) is the main character of the series, he is featured in all of the
Scribblenauts
titles. 
Lily

Main article: Lily
Lily (pictured in the image to the right) is Maxwell's twin sister and the narrator of the story. In the photo below, you can see that Lily bears a strong resemblance between her mother and Maxwell. Maxwell and Lily have a close relationship.
Parents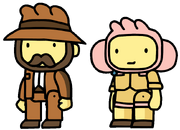 Main article here: Edgar and Julie
Maxwell's parents were also adventurers, before they settled down and had kids. Each child was given a magical item that Maxwell's parents had gotten from their travels. Edgar is pictured to the right of Lily, and Julie is pictured to the left of Maxwell.
List of Brothers
Trivia
Citations
[1] http://www.facebook.com/permalink.php?story_fbid=477879612225212&id=131788223501021
Selected Images from Link