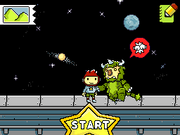 A monster is a big, green, fuzzy and hostile creature with three horns. Maxwell can chase it away with fire. Monsters have a medium attack and defense. Monsters are hostile towards most mammals (including humans), but do not attack other animals. They are also neutral towards giants, possibly because they are usually cooperative in fairy tales.
Trivia
Ad blocker interference detected!
Wikia is a free-to-use site that makes money from advertising. We have a modified experience for viewers using ad blockers

Wikia is not accessible if you've made further modifications. Remove the custom ad blocker rule(s) and the page will load as expected.