P1-1




Difficulty

Par

3

Game/Type

Puzzle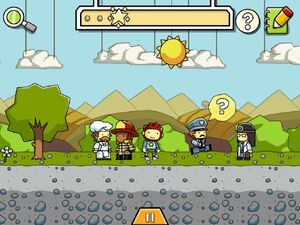 P1-1 is the first level of The Gardens in Scribblenauts.
Hint
"Give two of them what they would use in their hands."
Solution
Write two objects, it can be the same object if two people would both use it (e.g. giving a scalpel to both the chef and the doctor will work).
Trivia
This is level 1-2 in Remix.
Ad blocker interference detected!
Wikia is a free-to-use site that makes money from advertising. We have a modified experience for viewers using ad blockers

Wikia is not accessible if you've made further modifications. Remove the custom ad blocker rule(s) and the page will load as expected.