P10-11




Difficulty

Par

1

Game/Type

Puzzle
P10-11
is the final puzzle level in
Scribblenauts
.
Maxwell, Jeremiah, Marius and Matt are in a white outer space in search of the last Starite, and yet it's right in front of them. All they need though is just one more starite.
Hint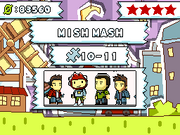 "Write the answer!"
Solution
Write 'the answer'. Or in this case, a fake starite. When you summon a starite, many others will fall, however only one is real. You just have to run around to and you'll have it in no time. Be warned though, there IS a slight catch. IF a starite lands on one of your companions, they attack it immediately. If one of them is the real starite then you better be quick and get it.
Tip: The real Starite has a particular shine that the rest don't have.
Ad blocker interference detected!
Wikia is a free-to-use site that makes money from advertising. We have a modified experience for viewers using ad blockers

Wikia is not accessible if you've made further modifications. Remove the custom ad blocker rule(s) and the page will load as expected.