P10-6




Difficulty

Par

4

Game/Type

Puzzle
Hint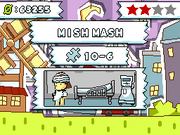 "One wants a family, another medical help, and the other entertainment!"
Solutions
The bottom right Patients needs a Doctor, Surgeon, Nurse, Paramedic, Pharmacist.
The top left patient needs any human, you can use the same person as the one for the bottom right.
The top right wants a Television, Toy, Video Game, Doll, Teddy Bear, and a Radio.
Ad blocker interference detected!
Wikia is a free-to-use site that makes money from advertising. We have a modified experience for viewers using ad blockers

Wikia is not accessible if you've made further modifications. Remove the custom ad blocker rule(s) and the page will load as expected.