P3-11




Difficulty

Par

4

Game/Type

Puzzle
Hint
"Get the patient to the hospital!"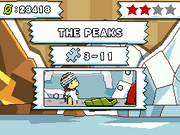 Solutions
Use a Roflcopter and a Rope attached to the vehicle and the Patient; then fly to the Hospital.
Create a Helicopter and drag it over the patient to put her in the back seat, then fly to the hospital.
Create a Jet and fly both of you to the hospital.
Ad blocker interference detected!
Wikia is a free-to-use site that makes money from advertising. We have a modified experience for viewers using ad blockers

Wikia is not accessible if you've made further modifications. Remove the custom ad blocker rule(s) and the page will load as expected.