P4-11




Difficulty

Par

8

Game/Type

Puzzle
Hint
"Help the king get to his castle!"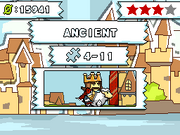 Solutions
Put out the fire, build a bridge, kill the Dragon

2x Drawbridge
Vampire: You can use the drawbridge to cross first to the switch then put it back up. How? Toss the vampire the lava, and place the drawbridge on top of him.
Ad blocker interference detected!
Wikia is a free-to-use site that makes money from advertising. We have a modified experience for viewers using ad blockers

Wikia is not accessible if you've made further modifications. Remove the custom ad blocker rule(s) and the page will load as expected.