P4-4




Difficulty

Par

3

Game/Type

Puzzle
Hint
"Bull in a china shop!"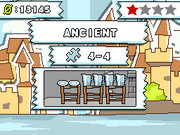 Solutions
Use a flying creature to attack the items.
Use a "disasterous" item like a Tsunami, Meteor, Nuke etc. without moving. If you are lucky, you will still grab the Starite.
Use a melee weapon to attack the artifacts.
Shoot the artifacts with a gun.
Remix
This level reappears in Scribblenauts Remix as 10-9. However, the Tsunami, Meteor, or Nuke will kill Maxwell, the Starite appears (with a glitch) and fail the level.
Ad blocker interference detected!
Wikia is a free-to-use site that makes money from advertising. We have a modified experience for viewers using ad blockers

Wikia is not accessible if you've made further modifications. Remove the custom ad blocker rule(s) and the page will load as expected.