P8-2




Difficulty

Par

3

Game/Type

Puzzle
Hint
"Find the impostor!"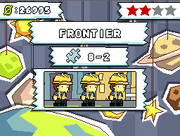 Remix: "One of these construction workers is a robot! Help Maxwell find it."
Solution
The impostor is the 2nd Construction Worker from the left.
Kill it with an Excalibur and pick up the starite.
Electrocute it.
Shoot him.
Be creative.
Trivia
This level reappears in Scribblenauts Remix as 9-6.
Ad blocker interference detected!
Wikia is a free-to-use site that makes money from advertising. We have a modified experience for viewers using ad blockers

Wikia is not accessible if you've made further modifications. Remove the custom ad blocker rule(s) and the page will load as expected.