P9-10




Difficulty

Par

4

Game/Type

Puzzle
Hint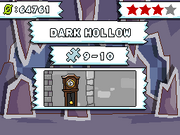 "Catch the haunted clock!"
Remix: "Catch the clock! It contains a starite! But don't destroy it!"
Solutions
Place any objects in the three corners that the Grandfather Clock isn't in, then walk to the clock. Static objects are the easiest, as humans or animals will walk away.
You can write Living Room, Garage or other words that create multiple items for a one-word solution.
Ad blocker interference detected!
Wikia is a free-to-use site that makes money from advertising. We have a modified experience for viewers using ad blockers

Wikia is not accessible if you've made further modifications. Remove the custom ad blocker rule(s) and the page will load as expected.