Rabbits
are small, white, long-eared, mammals that eat plants and have both a very low attack and defense. If two rabbits are near each other, they'll interact with each other and spawn two
baby
bunnies. They are scared of
Rabbit's Feet
and are prey for most predators bigger than them.
In Scribblenauts Remix and Scribblenauts Unlimited, the models for Rabbit and Bunny are different.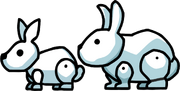 Trivia
Ad blocker interference detected!
Wikia is a free-to-use site that makes money from advertising. We have a modified experience for viewers using ad blockers

Wikia is not accessible if you've made further modifications. Remove the custom ad blocker rule(s) and the page will load as expected.