A
Samurai
is a member of a powerful military caste in feudal Japan, especially a member of the class of military retainers of the daimyos. In the first three games, they spawn with a
Sword
; from
Scribblenauts Unlimited
onwards they spawn with a
Katana
. Samurai are not aggressive to peaceful NPCs, but will defend themselves if attacked. Samurai will protect
Sensei
.
Female Variant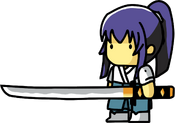 The female variant of the samurai greatly resembles Saeko Busujima, a character from the manga and anime Highschool of the Dead. She has the same hair style and color, who wields a katana against a plague of zombies.
The Female Variant is completely different from the Male Samurai, aside from the Katana she wields, she has a purple ponytail, a white robe similar to the robe a Sensei wears, light blue pants, and silver shoes.
Ad blocker interference detected!
Wikia is a free-to-use site that makes money from advertising. We have a modified experience for viewers using ad blockers

Wikia is not accessible if you've made further modifications. Remove the custom ad blocker rule(s) and the page will load as expected.