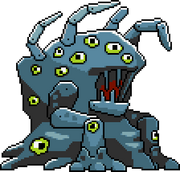 Shoggoth is a large blue blob monster with several green eyes. It comes from H. P. Lovecraft's novella At the Mountains of Madness, and is one of the three creatures originating from the Cthulhu Mythos, the Shambler and Cthulhu being the others. It is hostile towards most creatures, except the Shambler, Cthulhu and anything with the adjective Lovecraftian.
In Scribblenauts, Shoggoth appears in level A9-8 (boss battle), and is dubbed "The master of the Doppelgangers" in the hint. Saddles can be placed on it.
You will encounter a Shoggoth in Scribblenauts Unlimited in the Capital City Runoff level, where you must give it a mirror to look at its true self, and it will break when a mirror is spawned near it.
Trivia