Teratorns were very large birds of prey that lived in North and South America from Miocene to Pleistocene. They include some of the largest known flying birds and possibly evolved from the Phorusrhacidae.
A Roc is a large, colorful bird-like creature, supposedly akin to a giant eagle. It is friendly and can be used for flight, although very slow. In Super Scribblenauts, it was changed to a brown, vulture-like bird, or Teratorn, but its behavior didn't change. The older version is "Archaeopteryx" in Super Scribblenauts. It is said that Marco Polo witnessed a Roc lift up and kill an adult Elephant than begin to eat it.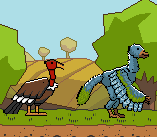 Ad blocker interference detected!
Wikia is a free-to-use site that makes money from advertising. We have a modified experience for viewers using ad blockers

Wikia is not accessible if you've made further modifications. Remove the custom ad blocker rule(s) and the page will load as expected.